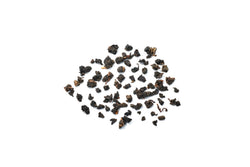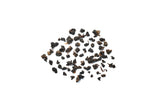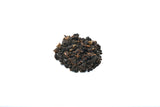 The seventh-generation successor continues to inherit over 50 years of craftsmanship. Old-fashioned skills always require a meticulous touch and lots of patience. Wood firing is the highlight of this tea, using Longan wood as the assigned material, and only certified personnel can be around the successor processing the teas. It is said that they take out the teas and attend to certain protocols annually for seven years to allow them to settle. Time is an essential factor when it comes to the post-oxidation reaction. It's a pair of shapeless hands polishing the 'fire' into a stable form, an artistic work that you rarely see in the open market. It's a steep in craftsmanship and the romance of history.
Scent of apricot, cacao, woody tone, butter, heavy body
-
Cultivar: Chin Shin Oolong
Region: Lugu Dong Ding
Elevation: 700 meters
Oxidation: Medium | Post Oxidation
Roast: Medium Dark
-
* The factory is certified with ISO 22000 and HACCP, featuring year-round temperature and humidity control, dedicated areas, and cleanliness, free from contamination. Extended low-temperature preserves the aroma and color of the tea leaves, enhancing the flavor of ingredients.