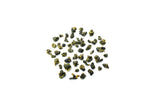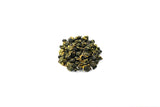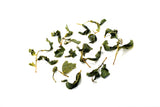 The region experiences a significant variation in temperature between day and night, and its soil is enriched with organic compounds. The tea's distinct flavor is the result of a combination of factors such as the microclimate, nutrient-rich soil, and the dedicated efforts of farmers. The location of the tea fields offers an optimal environment for tea trees to thrive. Unlike other tea fields in alpine areas like Lishan, where sunlight is scarce and can impede natural withering of the tea leaves, this region's conditions produce exceptional alpine tea varieties that are not commonly found in mainstream tea regions.
Delicate, fruity, sugarcane, silky, long lasting after taste. 
-
Cultivar: Chin Shin Oolong
Region: Lala Mountain
Elevation: 1700 meters
Oxidation: Light
-
* The factory is certified with ISO 22000 and HACCP, featuring year-round temperature and humidity control, dedicated areas, and cleanliness, free from contamination. Extended low-temperature preserves the aroma and color of the tea leaves, enhancing the flavor of ingredients.