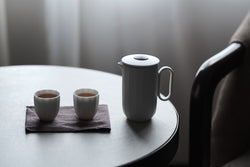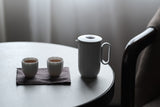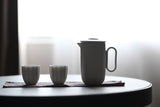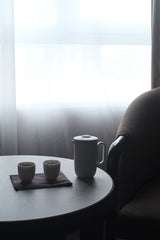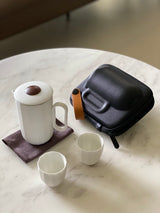 Exquisite Travel Tea Set
Where Beauty Meets Convenience
 Introducing our Exquisite Travel Tea Set, the perfect companion for business, leisure, and travel enthusiasts. Crafted with a fusion of practicality and aesthetics, this set redefines the way you enjoy your tea, wherever your journey takes you.
**Traveling Made Delightful:**
Whether you're a business professional on the go or a leisure traveler seeking moments of calm, this travel tea set elevates your tea-drinking experience. Designed with your convenience in mind, it transforms your tea ritual into a seamless and elegant affair.
**Beauty in Every Detail:**
The aesthetic appeal of our Travel Tea Set is truly captivating. With its minimalist and contemporary design, it effortlessly blends tradition and modernity.
**Detailed Description:**
- Includes 1 teapot and 2 cups.
- Compact and lightweight.
- High-density, pure, and refined glaze.
- The glaze surface feels as smooth as silk, providing a pure and warm touch.
- The elegantly designed spout and teapot handle ensure a graceful pour.
- Effective filtration; strong water flow when pouring.
- The wooden decoratively designed teapot lid adds an element of elegance.
- Comes with a portable protective carrying bag, suitable for various occasions such as business travel or outdoor activities.
- Your own portable tea ceremony, wherever you go.
**Product Specifications:**
Teapot:
- Length: 9.5 cm (including handle)
- Width: 6 cm
- Height: 11 cm
- Capacity: 200 cc
Cups:
- Length: 5 cm
- Width: 5 cm
- Height: 5 cm
Portable Protective Carrying Bag:
- Length: 13.5 cm
- Width: 8 cm
- Height: 16 cm
- Handle: 5 cm
**Cleaning and Maintenance Instructions:**
- When cleaning the teapot and cups, use a sponge, soft cloth, or a mild detergent to avoid damaging the glaze. In the case of stubborn stains, soak in hot water with a small amount of baking soda.
**Washing machine not recommended.**